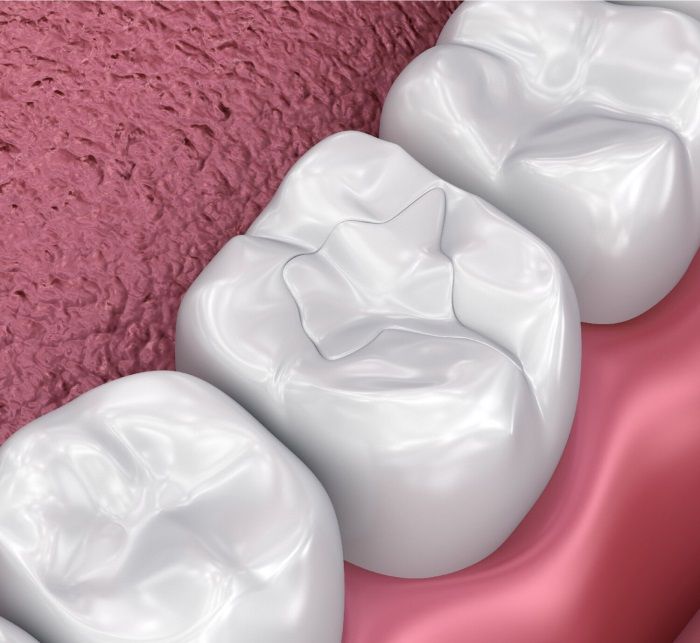 tooth colored fillings
The common silver filling contains mercury. Dr. Chamberlain uses the highest-quality biocompatible, tooth-colored restorations to create healthy, beautiful smiles. Since the composite material adheres directly to the tooth enamel, less preparation of the tooth is required before using it. This means it is more durable and provides a more natural-looking result.
What are Mercury Free Fillings?
In a world where we are constantly exposed to harmful chemicals, the benefits of a mercury-free dentistry are astonishing. Patients often don't realize that amalgam fillings, also called "silver" fillings, can consist of up to 55% mercury. Some people, like those who are trying to live a healthy lifestyle, might be frustrated when they find that the substances that help them restore their teeth may contain harmful components.
Dental amalgam is a mercury-based filling. Mercury is dangerous to human health, and it's time for dentists to stop using it. Our mercury free dentistry knows that safer options exist not only for your teeth but your entire well-being. Keep reading to find out more about the dangers of mercury and the benefits of our mercury-free dentistry.
The Dangers of Mercury Fillers
It is not true that amalgam fillings are fully safe. Some studies show that they are unsafe, but their safety varies among the different sources. When they are placed into your teeth, amalgam is no longer stable. It still releases mercury vapor, which can be harmful to your body. Mercury is bio-accumulative, which means it collects in your body when you release more mercury.
Mercury is the key to making amalgam fillings, but it also has some downsides. Mercury can concentrate other substances in order to produce persistent harm to the patient, and these harmful effects could lead to neurological damage if the mercury doesn't visibly affect you. Amalgam fillings can also be bad for your teeth.
Silver amalgam fillings are larger than other kinds of fillings, which means the process of placing them removes more healthy tooth structure. As a result, the tooth becomes weaker and less able to withstand decay.
Though amalgam is a tried and true filling material, it is not risk-free. Fillings only last the life of the tooth if they are not compromised by additional decay or side effects from the material. Amalgam can crack teeth due to its chisel-like pressure on the tooth that gradually wedges deeper into the tooth. In some cases, teeth may crack because of the continuous stress on them from amalgam.
The Benefits of Mercury Free Dentistry
At our office, we offer safe, durable fillings that are made for use in your mouth. These fillings are safe because they do not produce other chemicals that can hurt you. Instead of amalgam, other options are available, like composite resin or glass ionomers. We use strong materials to reinforce your tooth fillings for many years to come. If you're unhappy with the color of your filling, we can customize it to closely match your other teeth. This way, there's less removal of tooth structure. With less removal of tooth structure, the teeth will remain naturally strong. Mercury-free dentistry is the only option for sensitive teeth. Our fillings do not act as a wedge and crack your teeth. They're strong but also malleable, like the bone in your mouth, so they take pressure without harming other teeth. At Chamberlain Dental Care, we want to provide the best and safest materials possible so that no one or the environment is harmed. We offer mercury-free dentistry and guarantee our fillings are not harmful to you or the environment. They are just as strong, attractive, and beneficial. Visit us today to get a dental cleaning and a check-up.
Frequently Asked Questions
Fillings protect your teeth and your wallet. When you have a cavity, the more expensive alternative is to use a filling treatment. Silver amalgams, tooth-colored composites, gold, and porcelain are all options with different prices! A filling can cost anywhere from $50 to $4,500.
In the new era, composite resins offer a great alternative for restoring teeth. They're durable and can withstand moderate pressure from chewing. These tooth-colored fillings are good for small to mid-size fillings that need to be tough. You can use them on the front or back of your teeth.
Ceramic fillings are more expensive than composite fillings, but you can get them color-matched to your teeth.
Many insurance companies will pay for composite fillings up to the cost of a more expensive silver amalgam filling. There may be differences in what you're required to pay, which can depend on your coverage, co-pays, and more.

Call us to schedule a FREE consultation.
We are limited in how many consultations we can schedule during any given period - so make sure to schedule yours as soon as possible.
Call us