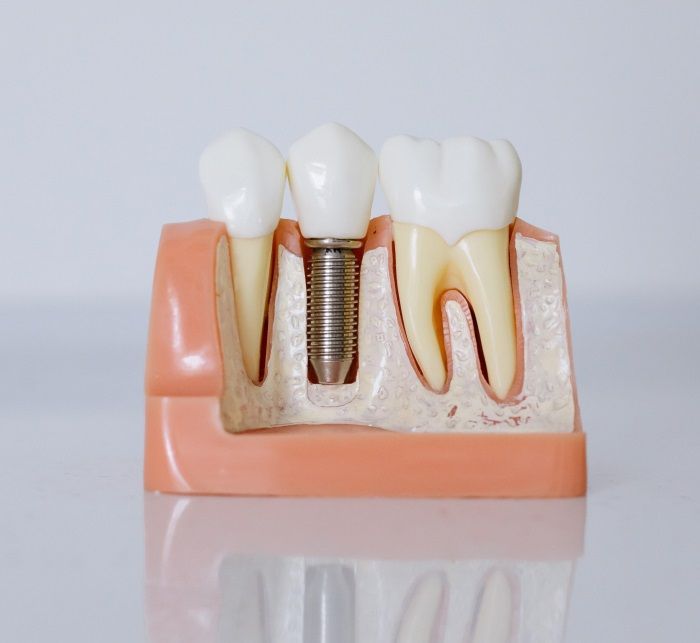 dental implants
Learn why Dr. Chamberlain is Clearwater's choice for Dental Implants
What are Dental Implants?
A dental implant is an appliance used to replace the roots of teeth. The implant is surgically attached to the jaw bone and an artificial tooth is attached to the top of the implant, creating a natural looking, undetectable replacement for the missing tooth.
Dental implants with artificial teeth are the closest thing to regrowing your natural teeth. They are strong, stable, durable and virtually undetectable. By filling gaps left by missing teeth, implants can provide better chewing ability and head off jaw joint problems.
Do you need dental implants? Take a look at your options. The right dental implant can make all the difference. With today's technology, nearly anyone can get a beautiful set of pearly whites. The right dental implant can make all the difference. Here are some to consider:
Dentures:
Full dentures are a removable option that can be used if you are missing all of your teeth on the upper or lower arch. These dentures will attach to the gum line to stay in place, and they will look and function much like natural teeth. With these dentures in place, you'll be able to eat, talk, and smile without hesitation.
All on 4 Dental implants:
To fully understand this innovative technique, it's important to first understand what dental implants are. Dental implants are titanium screws that replace lost tooth roots. They are inserted through minor surgery, and then a dental crown is attached to give the appearance of a natural tooth.
We've established what dental implants are, but you don't need one for every tooth! The beauty of All on 4 Dental implants is that they can be placed in strategic locations to restore your full smile with only 4 implants per arch. The implant has a unique ability to fuse with bone and function as part of it. Eventually, the implant becomes part of your jawbone and provides a solid foundation for your new teeth!
One of the many benefits of this bone fusion is it also works to prevent bone loss in your jaw. This prevents a sagging facial structure and better oral health.
Mini Dental Implants:
Mini dental implants have a lot of upsides. They are about half the width of traditional implants and are used to stabilize lower dentures. They are usually less expensive than standard dental implants and can be placed in a single appointment. That means patients won't need to take time off work or miss school, making them a popular option for many individuals.
Clearwater's Choice for Implants
If you're looking for premium quality implants in Clearwater and the surrounding area, you've come to the right place! Many of our patients tell us that they chose Chamberlain Dental due to our reputation. With hundreds of five-star reviews, you know you can trust Dr. Chamberlain and his excellent dental team to give you the finest service and personal attention throughout the process.
We're a comprehensive practice that not only does implants, but nearly everything relating to your dental health, and your health matters to us! A Fellow of the Academy of General Dentistry, Dr. Chamberlain has many years of training, experience, and has placed hundreds of implants. He's highly trained and practiced in cosmetic dentistry and desires to give you the smile you've always wanted. His philosophy is to always give you the best function and often uses implants to provide a long-lasting, durable, attractive smile restoration.
Frequently Asked Questions
Dental implants are metal fixtures. They're surgically fastened to your jawbone and then fused to the bone. The teeth can be mounted onto them and these metal implants then fuse with your jaw bone. This helps prevent any bone loss in that region.
Dental implants are priced between $1,500 and $2,000 per implant. However, the exact price can vary depending on individual circumstances. For instance, some patients only need one implant whereas others may need more because they are missing multiple teeth.
Regular brushing and flossing can help ensure that your implant's screw lasts a lifetime, but you'll have to get regular check-ups with the dentist every 6 months, too. The crown will need to be replaced in about 10 or 15 years, though, because it takes a lot of wear and tear to last that long.
Patients commonly experience a little pain after a dental implant surgery. The pain may last one to two days; however, some patients may experience pain for up to 10 days.
A dental implant is a permanent replacement for a missing tooth that is fitted into the jawbone. The reason people love it over dentures is that it's an artificial tooth that is attached directly to the jawbone. To benefit from dental implants, you must be in good health and have a fully developed and healthy jawbone. This means healthy gums and a healthy jawbone.
Implant-supported dentures, or full mouth dental implants--these are just some of the options people with dental problems may need. The cost of implant-supported dentures can range from $7,000 to $90,000. Full mouth dental implants are about $34,000 on average. A top or bottom set of dentures ranges from $3,500 to $30,000.

Call us to schedule a FREE consultation.
We are limited in how many consultations we can schedule during any given period - so make sure to schedule yours as soon as possible.
Call us