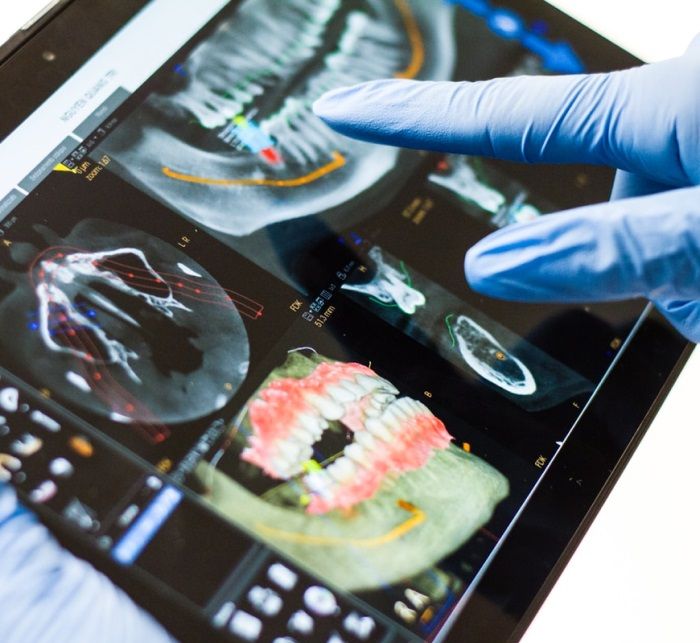 digital x-rays
At Chamberlain Dental, diagnosing dental conditions is safe and easy thanks to cutting-edge dental technology. Digital radiography, also known as digital x-rays, takes dental conditions to the next level by giving us a clearer picture of what's happening below the surface.
What are Digital X-Rays?
Our use of digital x-ray technology reduces your radiation exposure and eliminates the use of chemicals. It's better for you and the environment. It's also easy for you to see what the doctor sees. Your digital x-ray can be seen on a computer screen located next to your dental chair. This helps you understand your needs and make informed choices about your treatment.
​​A digital X-ray is composed of an electronic sensor and not a traditional X-ray film. The images can easily be stored on a computer. This reduces the amount of radiation the patient is exposed to by up to 90%. This form of X-Ray also has many other benefits: it is safer for the patient, and the pictures are in full color with a high resolution.
X-rays are a preventative and diagnostic tool for dentists. They enable us to see what's going on in the mouth between teeth and under the gum. We can use this information to detect dental abnormalities and create a treatment plan with accuracy.
Dentists use X-rays to see inside the mouth, diagnose dental issues, and find out if teeth are healthy or not. Among other things that dental X-rays reveal are abscesses, cysts, tumors, decay, developmental problems, bad tooth positions, and problems below your gum line.
Detect dental problems early! Early detection may save you time, money, and your teeth.
Digital X-rays are so much better than traditional x-rays for your health and safety. They are faster and more comfortable to take, which reduces your time in the dental office. They do not need to be developed, reducing the amount of harmful chemicals disposed of into the environment.
Even though digital X-rays are safe, we take necessary precautions to limit a patient's exposure to radiation. These include not taking unnecessary X-rays and using lead shields to protect the patient.
Frequently Asked Questions
Yes! All of us are exposed to natural radiation. Studies show that traditional X-rays are about 1/100th the radiation of what the average person is exposed to in a year alone. Digital X-rays are even better - producing up to 90% less radiation than traditional ones.
There are several factors that determine the need for dental X-rays, including your age, medical history, signs of disease, and risk of disease. We recommend only medically necessary X-rays, based on a review of your medical and dental history.If you are a new patient, we may recommend that you get radiographs. These pictures help us see what is happening inside your mouth, and they also provide information about the future of your mouth. We may recommend that you get radiographs at more frequent intervals if you are at a high risk for certain diseases or have symptoms. Recent films may detect new cavities or can be used to evaluate gum disease and growth and development.

Call us to schedule a FREE consultation.
We are limited in how many consultations we can schedule during any given period - so make sure to schedule yours as soon as possible.
Call us