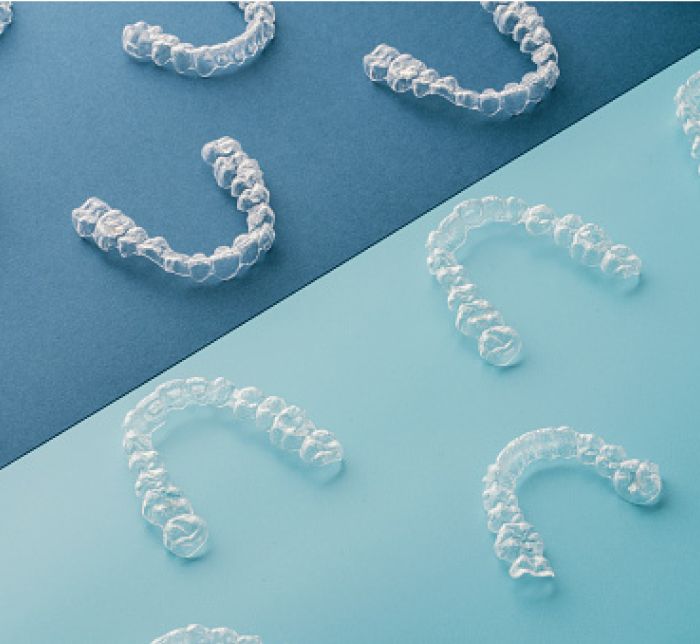 invisible orthodontics
These "invisible" aligners are the latest in orthodontic technology for adults and teens. Straight teeth and a revitalized smile no longer need to come from a mouth full of unattractive wire and bracket braces. Enhancing self-esteem and physical confidence, invisible braces offer an esthetic and barely visible alternative to conventional wire/bracket braces.
What is Invisible Orthodontics?
Orthodontists usually focus on more than just the appearance of teeth. Straight teeth are not only attractive, but they are easier to clean with a toothbrush and floss. Patients have fewer cavities or gum problems. If you didn't get braces when you were younger, you might be worrying about them now. You don't have to! There are other options for you-- including clear plastic aligners. They are virtually invisible and gently nudge your teeth into the correct position without the use of metal wires or brackets.
With a discreet way to straighten teeth, orthodontics using clear aligners is never too late. With an office in Clearwater, Chamberlain Dental offers adults the opportunity to get their teeth straight. Maybe you need an orthodontist near you? Call today!
Traditional orthodontics uses brackets bonded to the teeth with a wire threaded for more precise adjustments of tooth movement. This process can take a couple of years and involves frequent trips to the dentist.
When you wear clear aligners, you wear them for a few weeks, change them out, and they gradually move the teeth into the correct position. They are removable, so you can keep your teeth clean and eat what you want.
We all know that traditional braces can be quite uncomfortable and can irritate our mouths and gums. However, clear plastic aligners are a better option. Unlike brackets and wires, there is no irritation associated with wearing them.
Finding Orthodontic Treatment That's Right for You
Clear braces can correct a variety of orthodontic conditions. If you are looking for your perfect smile, come to our Clearwater dental practice for a clear evaluation. Clear aligners are an option for people who want the correction but not the metal. However, if you have complex bite-related issues, traditional braces might be the right choice.
Clear plastic aligners are best for adults and older teens who can commit to wearing them for at least 22 hours every day. But if people don't wear them long enough, treatment will take longer. Each set of aligners is worn for two or three weeks before you wear a new one, so you'll need less time in the dentist's chair.
Straighten Your Smile
Phone Chamberlain Dental today. We will help you determine if clear aligner braces are right for you. No matter what your dental needs, we are prepared to provide the care you need. Give us a call today!
Frequently Asked Questions
We recommend not eating or drinking between meals because it can be dangerous with Invisalign aligning trays in your mouth. The pressure that's created by these actions could wear down your aligners and get food stuck in your teeth and gums.
You do not brush or floss with your invisalign treys in, however a toothbrush can be a good way to clean the inside of your invisalign. Just be sure to use a soft bristle brush and avoid whitening tooth paste.
Invisalign is a crown-free, removable, and virtually invisible treatment that you can still live your life and care for your teeth through. The cost of Invisalign is greater than that of braces, but the end result is a much better smile because Invisalign can be removed. The total cost is about $3,400. With insurance, this amount is around $1,600. That leaves a remaining balance of $1,800 to pay.

Call us to schedule a FREE consultation.
We are limited in how many consultations we can schedule during any given period - so make sure to schedule yours as soon as possible.
Call us