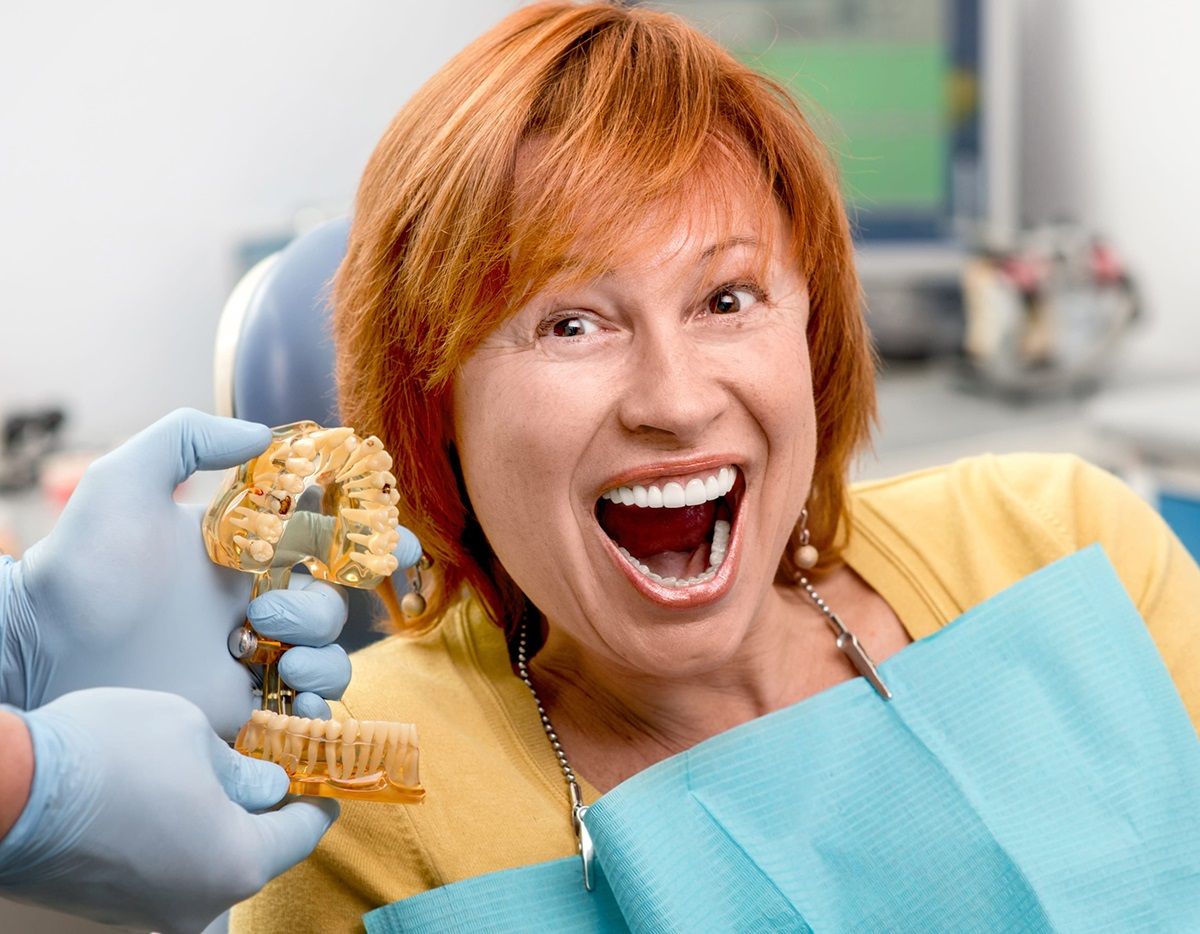 From Dingy to Dazzling: Transforming Your Smile with Professional Teeth Whitening
September 05, 2023
Are you tired of hiding your smile due to discolored teeth? You're not alone. Teeth whitening has become increasingly popular in recent years, and for good reason. Whether your teeth have become stained from years of coffee consumption, smoking, or simply the natural aging process, there's a solution to help you achieve that dazzling smile you've always dreamed of. In this article, we'll explore why people opt for teeth whitening, the effectiveness of professional teeth whitening services, and what to do when teeth whitening alone may not suffice.
Why Whiten Your Teeth?
Before diving into the specifics of teeth whitening, it's essential to understand why people choose this cosmetic procedure. A bright, white smile can significantly impact your self-confidence and overall appearance. Here are some common reasons why people decide to get their teeth whitened:
Stains from Lifestyle Habits: Daily habits like drinking coffee, tea, red wine, and smoking can leave unsightly stains on your teeth over time.
Aging: Our tooth enamel naturally wears down as we age, revealing the yellowish dentin underneath. This can make your teeth appear discolored and less vibrant.
Special Occasions: Many individuals choose teeth whitening to make a lasting impression before significant life events such as weddings, graduations, or job interviews.
Boosted Confidence: A white smile can boost your self-esteem, making you more comfortable and confident in social and professional settings.
The Growing Trend of Teeth Whitening
Teeth whitening has gained immense popularity in recent years. According to the American Academy of Cosmetic Dentistry, teeth whitening is among the most requested cosmetic dental procedures. The satisfaction rate among those who've undergone teeth whitening is exceptionally high, with many reporting improved self-esteem and confidence.
Professional Teeth Whitening vs. Over-the-Counter Options
While there are numerous over-the-counter teeth whitening products available, professional teeth whitening services offered by dentists are generally considered safer and more effective. Here's why:
Customized Treatment: Dentists can tailor the whitening treatment to your specific needs and address any underlying dental issues.
Stronger Whitening Agents: Professional treatments use more potent whitening agents, which can remove deep stains and provide more noticeable results.
Supervised Care: A dental professional overseeing your treatment ensures safety and minimizes the risk of sensitivity or damage to your teeth and gums.
Longer-Lasting Results: Professional teeth whitening provides longer-lasting results compared to over-the-counter options.
When Teeth Whitening May Not Suffice
While teeth whitening is highly effective for most cases of tooth discoloration, it may not be suitable for everyone. Some types of discoloration, such as those caused by tooth trauma or certain medications, may not respond well to whitening treatments. In such cases, alternative cosmetic dentistry options can be considered:
Dental Bonding: Dental bonding involves applying a tooth-colored resin to the surface of the teeth to cover stains and imperfections. It's a quick and cost-effective way to improve the appearance of discolored teeth.
Porcelain Veneers: Veneers are thin shells of porcelain custom-made to fit over your teeth. They can effectively cover severe stains and provide a complete smile makeover.
Same-Day Crowns: Custom-made crowns to protect and restore damaged or discolored teeth. A crown completely covers the tooth and is matched perfectly to blend in with other teeth.
Discover Chamberlain General and Sedation Dentistry in Clearwater, FL
For residents of Clearwater, FL, and the surrounding areas, Chamberlain General and Sedation Dentistry is your go-to destination for all your cosmetic dentistry needs. Not only do they offer professional teeth whitening services, but they also provide a wide range of dental solutions to enhance your smile and oral health.
At Chamberlain General and Sedation Dentistry, you'll find a warm and welcoming environment staffed by highly trained professionals who treat you like family. Patients with dental anxiety or difficulty getting numb need not worry; they offer sedation dentistry solutions to ensure your dental treatments are comfortable and stress-free.
In addition to teeth whitening, Chamberlain General and Sedation Dentistry also offers dental implants, periodontal services, Invisalign, tooth-colored restorations (fillings), same-day crowns, and sleep apnea treatment. They are committed to helping you achieve the smile of your dreams while prioritizing your comfort and oral health.
In short, achieving a dazzling smile is within your reach, no matter the cause of your teeth discoloration. Professional teeth whitening services, like those offered at Chamberlain General and Sedation Dentistry, can provide safe, effective, and long-lasting results. Don't let stained or discolored teeth hold you back – take the first step towards a brighter, more confident smile today!
If you're considering teeth whitening or any other cosmetic dental procedure, it's essential to consult with a qualified dentist like the ones at Chamberlain General and Sedation Dentistry. Here are some additional reasons why you should consider their services:
Comprehensive Dental Care: Chamberlain General and Sedation Dentistry offer a wide range of dental services, ensuring that you can address all your oral health needs under one roof. They've got you covered, from routine check-ups and cleanings to complex restorative and cosmetic procedures.

Experienced and Skilled Professionals: The team at Chamberlain General and Sedation Dentistry is comprised of highly experienced and skilled dental professionals who stay up-to-date with the latest advancements in dentistry. You can trust them to provide you with the best care possible.

State-of-the-Art Technology: The dental industry has seen significant technological advancements in recent years, and Chamberlain General and Sedation Dentistry are at the forefront of utilizing these innovations. Their use of cutting-edge technology ensures that you receive the most efficient and effective treatments available.

Personalized Treatment Plans: Your dental needs are unique, and the team at Chamberlain General and Sedation Dentistry recognizes that. They take the time to understand your goals and develop personalized treatment plans to achieve the results you desire.

Sedation Dentistry: For those who experience dental anxiety or have difficulty getting numb, Chamberlain General and Sedation Dentistry offers sedation dentistry solutions. This allows you to relax during dental procedures, making them more comfortable and stress-free.

Same-Day Crowns: With their same-day crown technology, you can have damaged or discolored teeth restored quickly and conveniently. There is no need for multiple appointments or temporary crowns – you can leave the office with your permanent restoration in a single visit.

Invisalign: If you're looking to straighten your teeth discreetly, Invisalign is an excellent option. Chamberlain General and Sedation Dentistry can provide you with Invisalign treatment to help you achieve a perfectly aligned smile without traditional braces.

Dental Implants: Missing teeth can affect not only your smile but also your overall oral health. Chamberlain General and Sedation Dentistry specializes in dental implant procedures, providing a permanent and natural-looking solution for missing teeth.

Periodontal Services: Gum health is essential for a beautiful smile. The Chamberlain General and Sedation Dentistry team offers periodontal services to address gum disease and maintain healthy gums.

Warm and Welcoming Environment: A trip to the dentist can be intimidating for some, but Chamberlain General and Sedation Dentistry strives to create a warm and welcoming atmosphere where you'll feel at ease from the moment you walk in.
In conclusion, if you're looking to transform your smile from dingy to dazzling, Chamberlain General and Sedation Dentistry in Clearwater, FL, is the place to go. With their professional teeth whitening services and a wide range of other dental solutions, they can help you achieve the radiant smile you've always wanted. Plus, their commitment to patient comfort and satisfaction ensures that your experience will be top-notch. Don't wait any longer to unlock your best smile – schedule a consultation with Chamberlain General and Sedation Dentistry today!