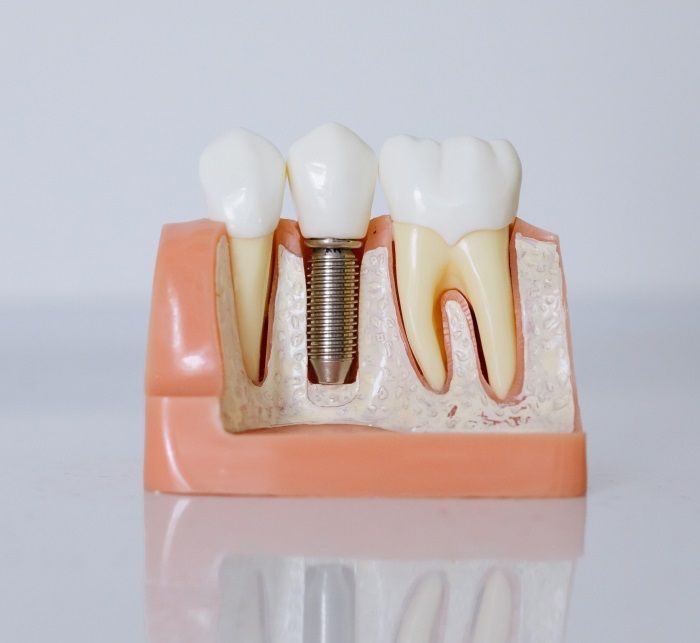 Dental Implant Benefits
February 17, 2023
Dental implants are a popular and effective solution for replacing missing teeth, offering numerous benefits over traditional dental replacement options of bridges or dentures. If you're considering dental implants, here are five reasons why you should make the investment:
Improved Oral Health: Dental implants are designed to mimic the structure of natural teeth, which means that they help to maintain healthy jawbone structure and prevent the loss of surrounding teeth. The implants are securely anchored into the jawbone, so there's no need to worry about slipping or sliding. This stability also helps to reduce the risk of gum disease, which is a common problem with traditional dentures and bridges.

Improved Appearance: Dental implants look and feel like real teeth, making them an excellent option for those who want to achieve a natural and attractive smile. The implants are custom-made to match the color, shape, and size of your existing teeth, so they'll blend in seamlessly with your smile. This can help to boost your confidence and self-esteem and improve your overall quality of life.

Durability and Longevity: Dental implants are incredibly durable and can last for many years with proper care and maintenance. Unlike dentures and bridges, which often need to be replaced every 5-10 years, dental implants can last a lifetime with appropriate care. This makes them a more cost-effective solution in the long run, as you won't need to keep replacing dentures or bridges.

Improved Comfort: Dental implants are designed to be comfortable and natural-feeling so you can eat, speak, and smile with confidence. Unlike dentures, which can slip or irritate the gums, dental implants are securely anchored into the jawbone, so there's no need to worry about discomfort. Additionally, the implants won't interfere with your taste buds, so you can fully enjoy all your favorite foods. That is a huge benefit!

Easy to Care For:

Unlike dentures, which need to be removed and cleaned daily, dental implants can be brushed and flossed just like your natural teeth. This makes them a convenient and low-maintenance option for those who want a hassle-free solution for their missing teeth. You should continue your normal oral hygiene routine, including regular check-ups and cleanings with your dentist, to keep your implants looking and feeling their best.
As you can see, dental implants offer extensive benefits and are often the best choice for tooth replacement. For Clearwater, FL, area residents looking for a long-lasting and natural-feeling solution for their missing teeth, Chamberlain Dental is an excellent choice for dental implant needs. Dr. Chamberlain has vast experience with implants and offers different sedation options to make your dental visit as comfortable as possible. We offer free consultations and are happy to answer any questions you may have.
Whether you're looking to improve your appearance, oral health, or comfort, dental implants are a great option to consider. If you're interested in learning more about dental implants, contact our dentist to see if we have the right choice for you.